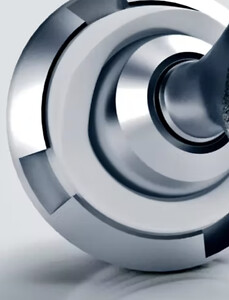 While many different implants and fixation philosophies exist, and the solutions are diverse, the manufacturing processes of the individual components remain similar. Due to their material properties, orthopedic implants can be classified according to the manufacturing processes. This enables us to offer tailored quality solutions in the individual segments, which leads to an increase in productivity in your process. Explore the quality gates for the metal manufacturing process and the plastic manufacturing process.
Dental Implants
Due to the shape of dental implants, the thread measurement of the entire component surface is most challenging.
Shoulder Implants
A shoulder implant consists of a glenosphere, a glenoid implant, peripheral screws, and a humeral stem. The measurement of narrow stem's freeform profile is the biggest metrological challenge for this type of implant.
Spinal Implants
The full inspection of rods without datum references is the greatest difficulty in measuring spinal implants. For these implants, intervertebral discs are fixed by spinal rods and monoaxial pedicle screws.
Hip Implants
It is the low tolerance of multiple parts made of several materials that makes measurement of hip implants challenging. These implants are comprised of an acetabular cup, a polyethylene liner, a femoral head and a femoral stem.
Knee Implants
When measuring knee implants accurately, it is important to ensure that no white marks are left behind. A knee implant consists of metallic and plastic components.
Bone Implants
Bone screws and bone plates are used for implants in the field of trauma & extremities. The biggest metrology challenge of bone plates are multi-axis measurements of shallow bores on a freeform surface.
Watch the video to the right.