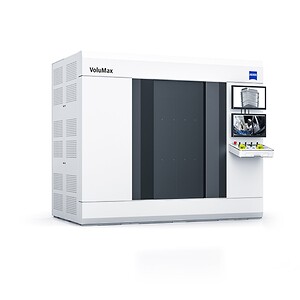 Delivering 450 kV performance while maintaining a remarkably small footprint, the ZEISS VoluMax 9 titan is the most compact and robust system of its kind on the market. Not only can its spacious interior accommodate parts measuring up to 590 x 700 mm and weighing as much as 60 kg, its 3k detector and 1,500 W power range offer outstanding penetration strength – all of which is vital for handling the large and dense components that characterize the battery module segment.
The operator console is integrated into the cabinet to save additional space, ensure greater ease of use, and provide a health and safety boost for personnel in at-line and quality lab environments alike. On top of this, the ZEISS VoluMax 9 titan is backed up by a comprehensive and fast service package for a swift return on investment and minimal downtime.
Compact design delivers power and quality
Given that high-quality batteries are essential for growing the reach of BEVs (battery electric vehicles), the battery sector is underpinned by a considerable array of efficiency and quality requirements. The ZEISS VoluMax 9 titan offers a reliable means of performing consistent defect inspections on very dense parts such as battery modules – with a blend of cost-effective performance and compact design unlike anything the market has seen before.
Though the ZEISS VoluMax 9 titan is characterized first and foremost by its remarkably compact design, this robust solution is packed with additional features to ensure high-level performance.
Finally, the ZEISS VoluMax 9 titan features a new 3k detector for generating 3D volume data sets with higher resolution: More voxels means better detection of smaller defects.
Try watch the video to the right.