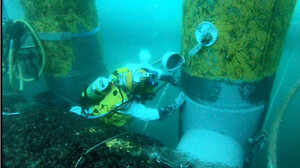 A Giant Step Forward For Subsea Pipe and Structural Repair
The Technology to be presented at ONS Technical Sessions, Hall 10, Tuesday 28 August at 14:30 - 15:00. Success factors in brownfield modifications.
Presentation includes information on the use of two-component resins under and above water. References available.
The Technology is also to be presented:
Hall 10, Room 19: Wednesday 29 August at 13:00-13:20
Hall 10, Room 1: Thursday 30 August at 09:30-09:50
Read our full program here
Fuglesangs AS is at Stand 2430 Hall 2 together with Trans Construction AS, ATC
As part of Fuglesangs commitment to provide excelent Pump Solutions to O&G, we cooperate with ATC to supply good total solutions with short delivery time.
ATC has long experience on containerised solutions, noise hoods and API skids according NORSOK and other standards. Fuglesangs represent serveral leading pump manufacturers as RuhrPumpen, NETZSCH, Weir Mineral pumps, HydraCell, etc. We build and test pump skids according to NORSOK/API in our workshop in Oslo


API 682, Seal Repair, Custom Seals, Split Seals
Fuglesangs have experience with Mechanical Seals since early 1980's. We are proud to present our extended capabilities with Chesterton, Fluiten and NASH Seal.
Contact us to reduce you cost of owner ship