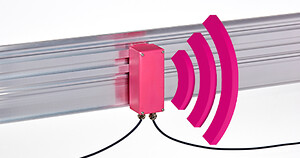 Small transmitters connected by cable are installed at 50cm intervals on the outer guide trough side links. The so-called beacons transmit their positions to a single antenna fixed to the floating moving end. The system uses the relative position of the beacons to the antenna and the transmitted position to calculate the trolley position. It is then sent to the customer control system via Profinet. This provides information for the EC. PR push/pull force monitoring system. It also positions the crane trolley precisely. The repeatability envisioned is indicated to be +/-5mm!
Tech up
Path measurement system for connection to the position-dependent push/pull measuring system EC. PR
Usable as a primary trolley positioning system – eliminates the need for a second measuring system.
No additional rotation monitor necessary: beacons transmit position information to the moving antenna.
Repeat accuracy: +/-5mm
Transmission of position data to customer PLC control via Profinet.

Cost down
Average of four man-days of installation time saved because the second measurement system is eliminated.
Proof
Has been tested and documented at BTG (experts for crane positioning systems)
Q2 2020 Test set-up at 200-m field test facility in the igus® laboratory for dynamic energy transmission systems, the world's largest.
Sustainability
Quick decommissioning of uneconomical technologies thanks to installation time saved
Free-of-charge recycling of installed energy chains with the igus® chainge programme.
Potential application areas
We have developed EC.PP for this purposeShip-to-shore cranes, especially in automatic mode
Bulk material handling
Stacker reclaimer
Applications in heavy industry such as steelworks
Source: Igus Gmbh